UPCOMING EXHIBITIONS, 2018……
"NORTHERN EXPOSURE 5"
Glasshouse Regional Gallery, Port Macquarie.
Opening 6pm, Friday 13th July.

ARTWORK STATEMENT: LINDA LOCKYER
My artwork, entitled "Washhouse Rhapsody" is inspired by
Washhouse Beach at Dunbogan. I love to walk, swim and snorkel
there. It is a place of immense beauty, with amazing rock pools and
a pristine beach whose peaceful atmosphere I find most
exhilarating.
A rhapsody can be a piece of music or a poem which has no formal
structure but expresses powerful feelings. It is an effusively
enthusiastic or ecstatic expression of emotions.
I feel that this definition also adequately describes my style of
painting, particularly in this artwork.
I have used the colours which attracted me most in this coastal
environment to portray my subject matter. Using Acrylic paint
applied with spatulas, brushes and cloths, the artwork has been
created in a somewhat meditative state. Whilst painting, I was
imagining, feeling and reliving the experience of being in this
wonderful place. The marks were applied deliberately, delicately
and with careful consideration in order to capture the exquisite
nature of Washhouse Beach.
"ELEMENTAL"
ARMIDALE ART GALLERY
SEPTEMBER, 2018.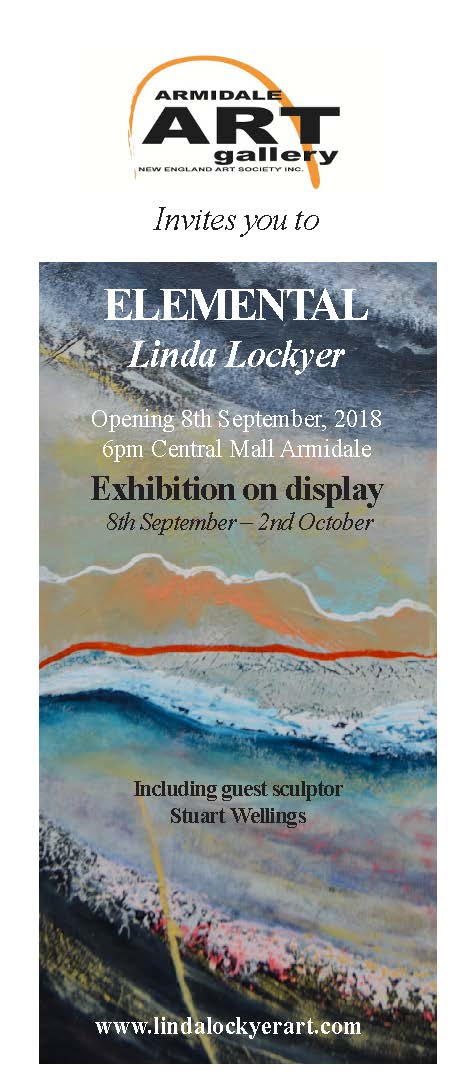 Artist Statement: "ELEMENTAL"
Paintings by Linda Lockyer, Sculptures by Stuart Wellings
The forces of nature and how they influence the landscape are the
inspiration behind this exhibition. Air, water and earth in their
different forms, combined with light and the impact of weather can
be portrayed in many different ways and will evoke varying moods
and emotions depending on how we identify to the subject matter…
We hope this exhibition excites you!
                                                                          Linda Lockyer
                                                                            Stuart Wellings